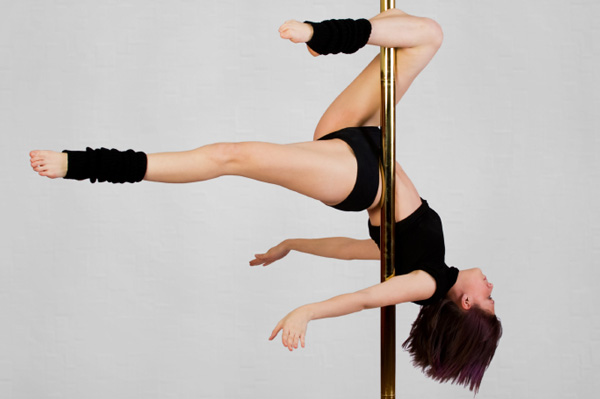 In this weeks episode of "This is You and Me," where we look at what's happening in the San Francisco Bay Area, we visit a fitness studio in the Financial District, to gain a deeper understanding of the popularity of pole dancing courses.
At "Sly Dance," where I attend an evening pole dancing class, the lack of men in attendance compared to other fitness classes offered there is immediately noticeable. Although this class is women only, several of the (non-sensual) courses are co-ed, and so far no men have signed up. Because fitness with poles originates as an exclusively male sport, few can grasp why men are not as attracted to these courses as women.
The students wear form fitting spandex and well made sports bras. To practice their moves on the pole, they wear only bare feet. (High heels are reserved for advanced classes only.)
The course itself is a beginners class where the women perform basic sensual moves on the pole. The goal in the first class is to learn
choreography
inspired by mating rituals found in the
Blue-footed Boobies, seabirds, many of whom breed on the Galápagos Islands.

Unlike the Blue-footed Boobies, where the male dances for the female, in human culture, the female generally dances for the male. Just like the male Blue-footed Boobies, human females do this gladly in their desire to appear attractive to potential mates, and therefore, earn increased value in society.
Footnotes:
I wrote this for a course called Aboriginal Worldviews and Education through
Coursera.
Our assignment was to watch the film "
Barbecue Area
," which re imagines colonialism in Australia (you have to watch it, it is so very very good!) and make our own ethnographic observations at a place of our choice in 250 words or less. Who knew that Blue-footed Boobies and act of Pole Dancing might share something in common?